Social distancing: the 2+2 rule
In public areas, both outside and inside, please keep a distance of at least two metres (6,6 ft) and move in individual groups of no more than two people. This rule does not apply to families moving together or people carrying out public duties.
Tallinn is opening: public spaces and events
Public spaces: museums, attractions, shops etc.
The following attractions, shops, and entertainment establishments are allowed to open their doors:
From 19 May 2020:
Museums - see our list of attractions awaiting for visitors in Tallinn
Malls, shopping centres, and individual shops
Public playgrounds and outdoor sports grounds
Gyms and sports clubs
Bars and restaurants. Please note that you cannot buy alcohol in shops, bars, restaurants, hotels, and other similar establishments between 10 p.m. and 10 a.m.
From 1 June 2020:
Spas, saunas, and swimming pools, although they can only operate at 50% of their maximum capacity
Bowling alleys and billiard halls
Tallinn's public beaches.
From 1 July 2020:
Theatres and cinemas provided that they do not exceed 50% of their maximum capacity.
Nightclubs, casinos, and other similar recreational establishments remain closed until further notice.
Indoor and outdoor public events
Public events are cancelled until 30 June 2020, including concerts, conferences, other performances, and sports competitions. But there are exceptions:
As of now, you can take part in:
Outdoor public events in cars such as drive-in-cinemas and -concerts.
Outdoor sports events provided that the number of participants does not exceed ten people, and the 2+2 rule is respected.
Also, outdoor sports competitions are allowed to take place but without an audience and with a maximum number of 100 participants.
From 1 July, public events are no longer prohibited, but some limitations still apply:
Indoor events: maximum 500 participants and a 50% limit on the venue's maximum capacity
Outdoor events: maximum 1000 participants
Public transport in Tallinn
To minimise close contacts, using public transport in Tallinn is
free for everyone
until 1 June. You do not need a ticket to use the public transport system in Tallinn.
Travel restrictions and border crossings
As a temporary measure, Estonia has reintroduced border control.
Who can enter the country?
Estonian citizens and holders of an Estonian residency permit or right of residence
Foreign nationals who have close relatives in Estonia
Diplomats and their family members posted to Estonia
People providing vital services, foreign nationals needing to enter in the framework of international military cooperation, and international cargo.
Finnish citizens and residents for work, study, or an important family event
Latvian and Lithuanian citizens and residents - free travel has been restored between the three Baltic States.
Please bear in mind that if you enter the country, you are asked to self-isolate for 14 days (not applicable to Estonian, Finnish, Latvian, and Lithuanian citizens).
What else should you know about travelling to Estonia?
You can transit through Estonia to your home country if you have no symptoms of COVID-19.
There are no restrictions on exiting the country.
Many flight, bus, and ferry connections have temporarily stopped or reduced their services - for details about your travel connection, please contact your travel company or service provider.
International cruises: the start of the cruise ship season at the ports of Estonia has been delayed.
Read more about travelling to Estonia and crossing the border on the crisis information portal kriis.ee (in
English
,
Russian
, and
Estonian
) or call the crisis hotline 1247 (+372 600 1247).
Consular information
If you need consular information or have questions about travel restrictions in other countries, you can find the contacts of diplomatic representations in Tallinn on the website of the
Estonian Ministry of Foreign Affairs
.
Travelling to Estonia: important phone numbers and contacts
Tallinn Tourist Information Centre: opening times
The Tallinn Tourist Information Centre is closed, but we are happy to answer all your questions online daily from 09:00 until 18:00:
Phone: +372 645 7777 E-mail: visit@tallinn.ee
Chat: www.visittallinn.ee
Facebook, Instagram, Twitter: @visittallinn
Tallinn Tourist Information Centre has no known COVID-19 cases. We are trying to do our utmost to minimise risk and the spread of COVID-19. Thank you for your understanding!
Important medical phone numbers in Tallinn, Estonia
Family doctor advice line: +372 634 6630 (or 1220 if you have an Estonian number)
Emergency: 112
If you need medical advice while in Tallinn, please contact the family doctor helpline at +372 634 6630 (or 1220 if you have an Estonian number).
A doctor answers your health questions in English every day from 15:00 to 17:00 (24h/7 in Estonian and Russian) and can also redirect you to the emergency line 112 if necessary.
Should your situation get worse, call 112 for an ambulance.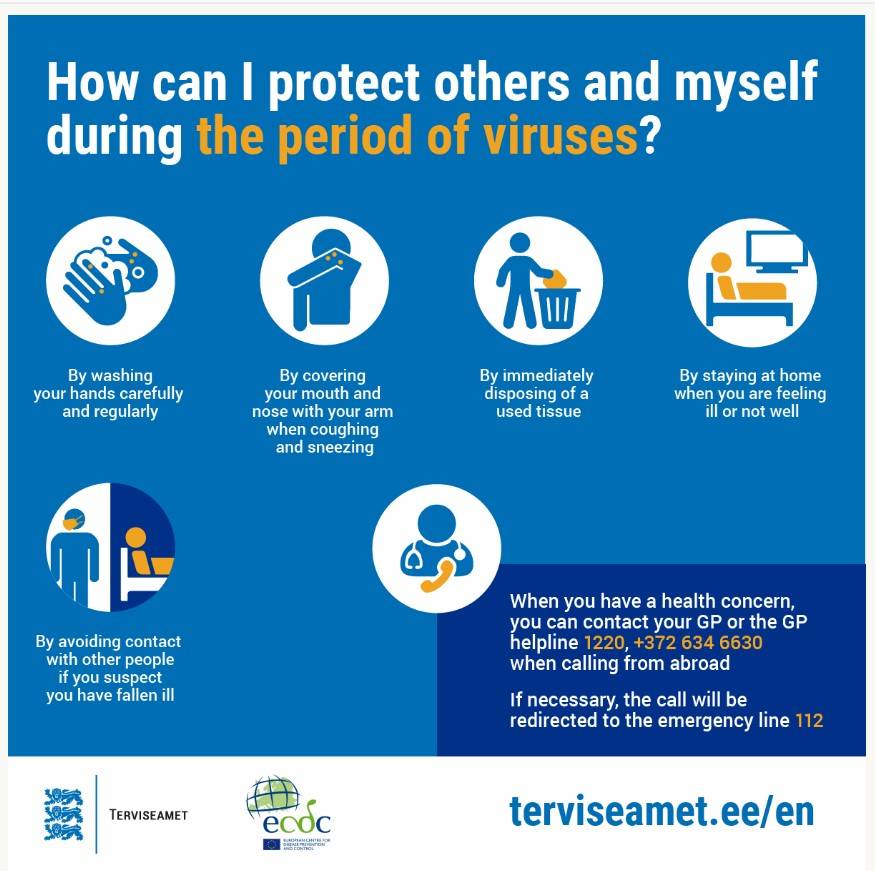 Photo by: Terviseamet
Up to date information about the coronavirus (COVID-19) epidemic