TOP 5 Ice cream shops in Tallinn
By Noora Karppi • 29.05.2017
Summer in the city can be quite hot and dry without refreshing drinks and, of course, ice cream!
Estonians believe that ice cream is good for your health and eat approximately 7000 tons of ice cream each year (the weight of the Eiffel Tower), which is a lot for a small nation. Most beloved ice creams are made with cream and named after local celebrities; such like Vanilla Ninja, a popular girl band from the 2000's, and Vana Toomas (Old Thomas), the guardian of Tallinn. Local favorites include traditional flavors like vanilla and chocolate, but lately italian gelato and new exciting recipes have taken over the ice cream market. How about raspberry prosecco sorbet or rhubarb ice cream?
Gelato Ladies
Gelato Ladies
is a success story of two Estonian women entrepreneurs, who learned to master the making of ice cream in the homeland of gelato, Italy. Opened in Tallinn Old Town in the summer of 2016, Gelato Ladies combines the best of both worlds (Italy and Estonia) to bring you tasty ice cream, made of natural ingredients. The gelato is made on spot in the café, address Uus 28, and there are up to 18 different flavors for you to choose from. Nothing is more refreshing than a scoop of watermelon or pineapple sorbet.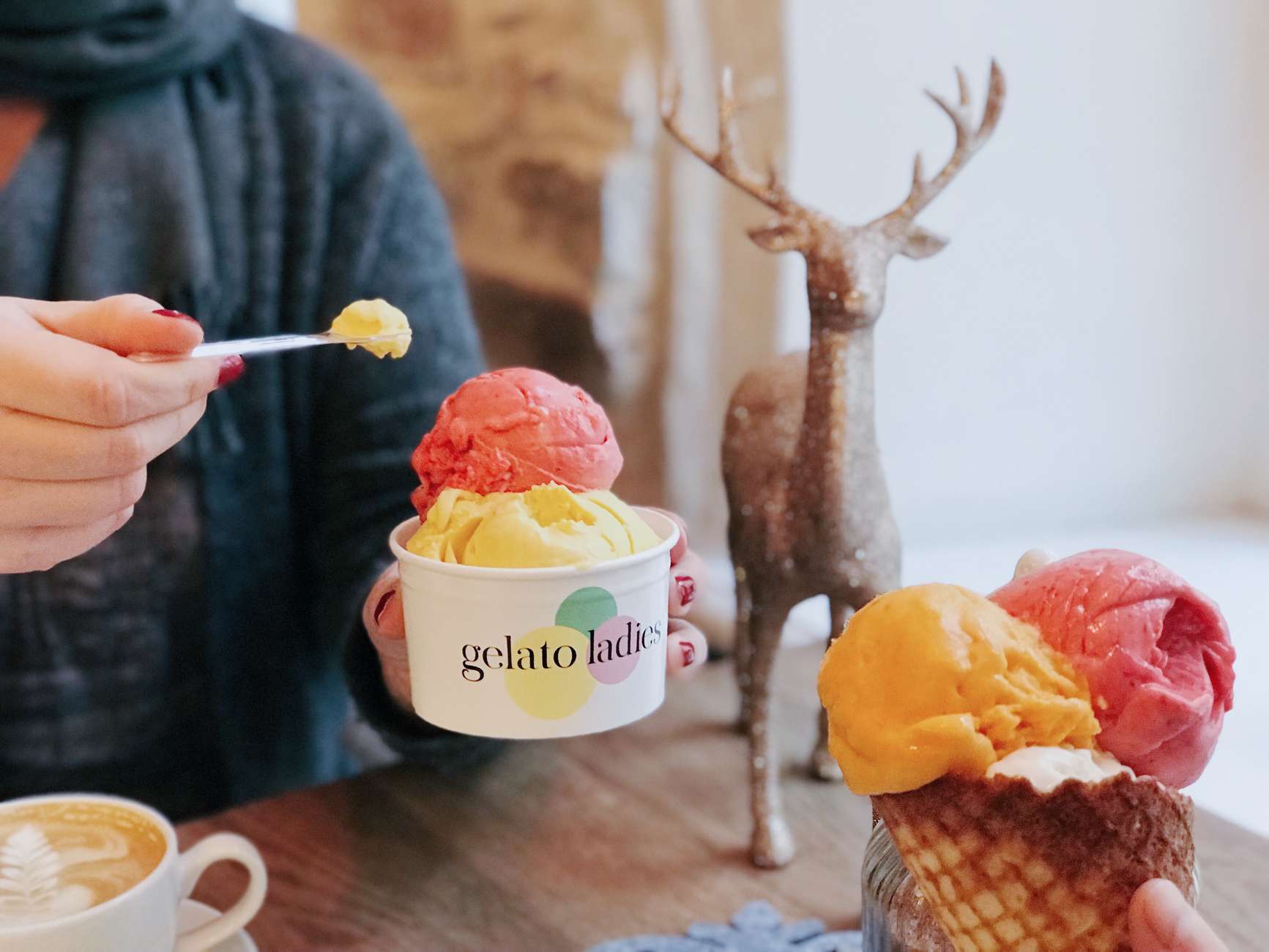 La Muu
Everyone loves
La Muu
. La Muu produces organic ice cream in Tallinn and is best known by its superb clean flavors, and sustainable design. Starting off in December 2012 (yes, in the middle of the coldest winter!) they have quickly won the hearts of locals and visitors. Try out Kama (a boiled, dried and ground coarse flour from a mixture of grains – Estonians love it) ice cream or some of the classics like sea salt and caramel ice cream or mango sorbet. La Muu also has a wide selection of vegan ice cream.
You can enjoy La Muu's delicious ice creams and sorbets at café
NOP
or grab an ice cream to go from Kaubamaja, Solaris, Stockmann or Rimi (in Kalamaja) grocery stores.
Cortile
Pistachio, stracciatella, chocolate and lemon are just a few classic flavors to indulge yourself at this Italian-owned gelateria. You can see the magic happen, as the fresh gelato is made daily right at the shop.
Cortile
is located between Toompea and lower Old Town, the address is Lühike jalg 4. It's the perfect place to rest between sightseeing and gain some energy from exhilarating gelato! Cortile will be closed in November 2017, but open for ice cream hunters again in December.
Reval Gelato
Reval Gelato
stays true to the Italian gelato making traditions and serves hand-made gelato made of good quality ingredients in
Reval Cafés
all around Tallinn. Reval Gelato has also their very own gelaterias in Solaris and Viru shopping centres. Enjoy gelatos in all flavors and colors from pistachio gelato to blackcurrant sorbet.
Jätsirull
The favorite of all instagrammers, ice cream rolls, can also be found in Tallinn.
Jätsirull
(Ice cream roll) serves authentic Thai-style rolled ice cream in
Ülemiste shopping centre
and Mustamäe keskus (Tammsaare tee 104a). Making of this fun and tasty ice cream sensation is an exciting performance to watch. Jätsirull uses only the best quality cream ice cream and fresh ingredients in their ice cream rolls.