May is the first spring month when you can be (almost) certain that the weather forecast is snow free. And that immediately translates into an abundance of outdoor events and street festivals, such as the Tallinn Day, Tallinn Old Town Days, and community parties in Telliskivi, Kalamaja and Nõmme. Some of the other highlights include the international Museum Night, World Music Days, and the literary festival HeadRead.
Take full advantage of the long days (at the end of May, the sun sets around 10 p.m. local time), and pick your favourites from our selection of top events of the month. If you cannot find what you are looking for, check our
events' calendar
.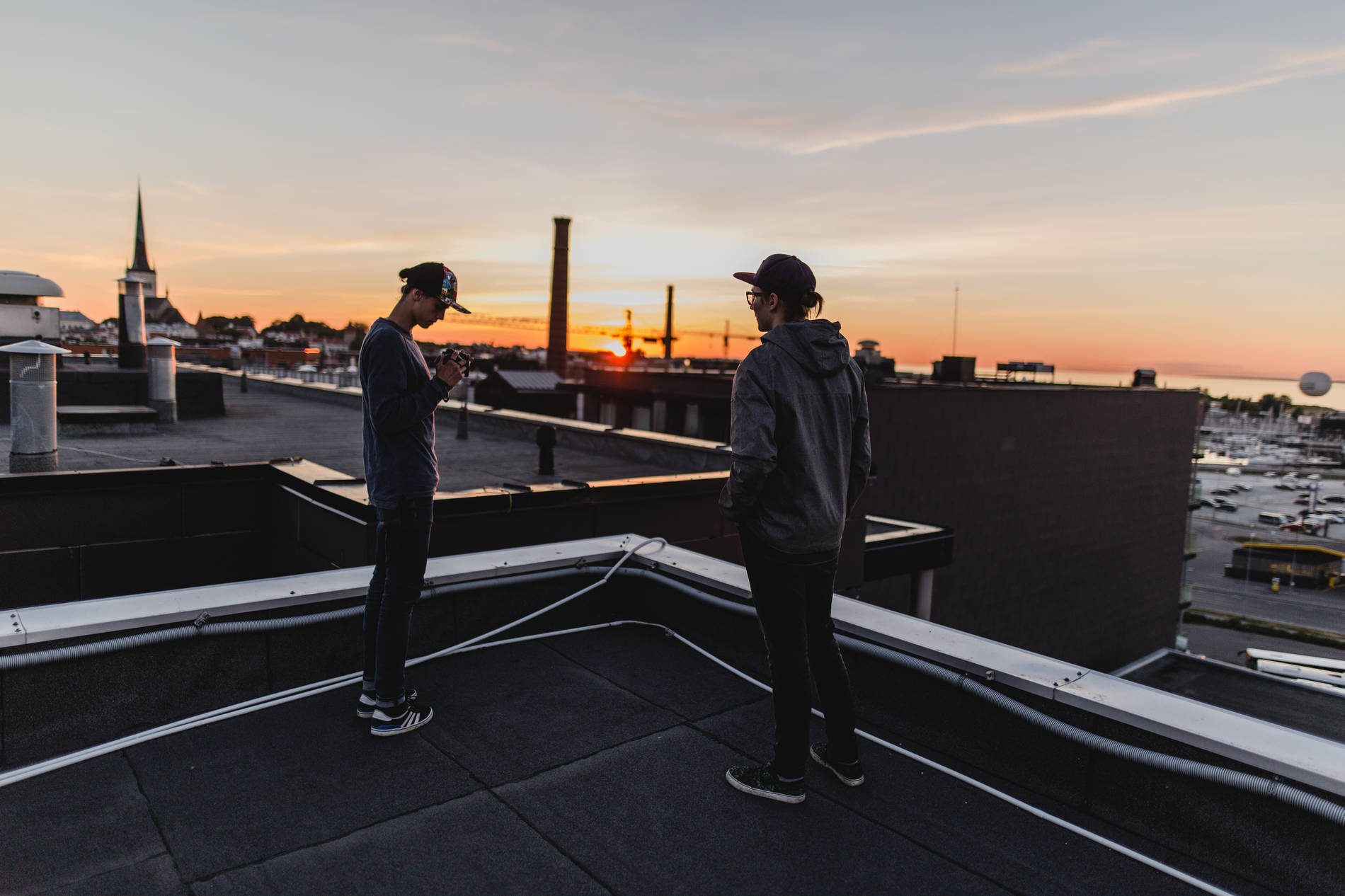 Special events
09.05.2019
European Day celebrations in Tallinn bring together embassies and international organisations based in Estonia, top-level politicians, and an exciting concert programme featuring many of the local superstars. The event is free.
Mother's Day
12.05.2019
Estonians celebrate Mother's Day on the second Sunday of May. So give your mom, grandmother, or any other mother figure in your life a big hug (topped with a beautiful bouquet) and treat her to a classical music concert in a palace fit for a queen:
Ensemble Väike rinG
12.05.2019, 18:00
The viola da gamba ensemble performs compositions by Lawes, Humes, Dowland, and Teleman along with baroque arias sung by Martin Karu, a brilliant young singer. Viola da gamba is a period instrument fitting perfectly into the impressive interiors of an 18th-century castle.
15.05.2019
Tallinn celebrates its admission to the Hanseatic League of European cities in 1248 with a day full of cultural events and activities. The focus this year is on the Estonian language. You can start practising by trying to pronounce the artists featuring in the line-up of the free concert taking place on Vabaduse väljak (19:00): Jää-äär, Öed, and Reket.
18.05.2019, until 23:00
The biggest museum event of the year! Once a year, museums and heritage sites in Europe and Estonia open their doors for later than usual and free of charge. How many museum visits can you fit into one evening? – Here's your chance to find out.
30.05-2.06.2019
The Old Town Days fill the streets of Tallinn with concerts, exhibitions, performances, and fairs, marking the beginning of summer in the city. In 2019, the Old Town Days also celebrate the
first recorded mention of Tallinn 800 years ago
.
The festival opens with a free open-air concert on the
Town Hall Square
by Ewert and the Two Dragons (30.05, 20:00), a local indie-rock phenomenon.
Community festivals and block parties
26.04-5.05
Telliskivi Creative City celebrates their first round anniversary with a 10-day birthday bash involving special tours, masterclasses, performances, and special menus in the area's many restaurants. The full program is
available on their website
.
18.-19.05.2019
Kalamaja
A festival organised by the local community of
Kalamaja
, a neighbourhood known for its artsy and colourful residents. It is a huge street party with outdoor cafés, concerts, performances and special activities for kids.
Nõmme block party Roheliste väravate tänav
26.05.2019, 10:00-16:00
Nõmme: Streets of J.V. Jannseni, Olevi, Hõimu, Põllu, Künni, Voolu, Raudtee, Ränduri, and Saha
Nõmme
is a quaint little suburban area just a short train ride away from the Balti Jaam railway station. In May, the residents will open their gardens and streets to different vendors, musicians, and performers. If you're looking to experience the local vibe outside the city centre, join the Nõmme block party!
Music and dance festivals
2.-10.05.2019
The annual ISCM World Music Days are hosted each year by a different country to display the amazing diversity of musical practice. The festival in Tallinn will include 99 compositions from nearly 50 countries, performed by local and international musicians, orchestras and choirs.
Dance festival Sabatants 2019
2.-4.05.2019
From polkas to waltzes and reinlenders, accompanied by live music,
Sabatants
brings you the joy of traditional dancing - just like at old village dance parties. Three days are filled with workshops, seminars, and performances by international artists. Grab your dancing shoes and join the fun!
Festival Orient
23.05-09.06.2019
Festival Orient
is the only festival in Estonia that focuses on oriental music and traditions. This year's highlights include the National Orchestra and Guttural Singing Choir of Tyva, shaman rites, whirling dervishes from Turkey, and musical performers from Japan.
Concerts and parties
01.05.2019, 19:00
01.05.2019, 20:00
Lithuanian pop sensation's first concert in Estonia. The songwriter and singer with a peculiar name, Daddy Was a Milkman (he is a father of two, and yes, used to work as a milkman), has won several awards in his home country and is continually breaking records as up until today, all of his concerts have been sold out.
10.05.2019, 19:00
10.05.2019, 20:00
Laura Mvula is a critically acclaimed British singer known for her deep velvety voice, powerful lyrics, and unique style that combines orchestral soul with thrilling beats. The concert location, the T1 Mall, has a wide selection of restaurants and you can buy a combined ticket that already includes a pre-concert dinner.
10.05.2019, 19:00
Steve Hackett, a former guitarist of the rock sensation Genesis and an inductee of the Rock and Roll Hall of Fame, is in Tallinn to present his newest album, At the Edge of Light. The tour set will feature tracks from Genesis as well as songs from Steve Hackett's solo albums throughout the years.
18.05.2019, 22:00
Liquicity Estonia fills the night with drum N bass played by Fox Stevenson, Maduk, Feint, L.A.O.S., Modest Intentions, Coverk, and Byte.
19.05.2019, 19:30
Leningrad is a popular Russian rock band from St. Petersburg. The band's impressive line-up of 15+ musicians plays Gypsy rock and is notorious for their vulgar lyrics. Or as the group itself explains: "Our songs are just about the good sides of life: vodka and girls that is."
Theatre and literature festivals
22.-26.05.2019
HeadRead brings together local and international writers for a series of public encounters and literary events. In addition to an extensive Estonian literature programme, the line-up includes acclaimed authors from around the world, such as Julian Barnes, David Lagercrantz, Leïla Slimani and many more. All events are free of charge.
23.-26.05.2019
NuQ Treff puts a focus on contemporary puppet and object theatre. The visually intriguing program includes performances for both adults and kids, ages 3-101.
Food events
Tallinn Whisky Show
18.05.2019, 15:00-21:00
The biggest whisky event in Estonia. You can taste different whiskies, network with other whisky-lovers, and learn more about this fine drink at different master-classes.
Fairs and design events
Estonian Food Fair x Estonian Car Fair
03.05.2019 (Food Fair)
03.-04.05.2019 (Car Fair)
Two annual events, the Estonian Food Fair and the Estonian Car Fair, join forces to bring you a full-on family event featuring local food producers and caterers, car dealers, and road and traffic industry organisations. This peculiar mix is complemented by an entertainment programme and a kids' play area. Both events are free. Do not miss out!
EKA x Basaar Spring Fair
05.05.2019
Traditional spring fair of the students of the Estonian Academy of Arts.
Women's Club, beauty and gourmet night
10.05.2019, 20:00
An evening dedicated to beauty, fashion, and good food at a trendy terrace café right in the city centre. Estonia's biggest high street fashion brand Baltika will present the hottest summer dresses from two of its main lines, Ivo Nikkolo and Monton.
Beauty fair Ilu sõnum
10.-12.05.2019
Ilu sõnum is the spring edition of Estonia's most significant beauty fair for professionals and end-users. Focusing on seasonal beauty treatments, spa procedures, and wellness, it is an ideal platform for discovering new beauty products and services.
Motorex 2019
22.-26.05.2019
Motorex
brings together local car industry representatives, motor enthusiasts and petrolheads.
Sports events
18.05.2019
Tallink May Run is the biggest exclusively female-targeted running event in Estonia. You can cover the 7 km (4,3 miles) distance either by running, walking, or Nordic walking. Despite its focus, it is still very much a family event: the programme includes a kids' run and a daycare centre for men featuring fun activities from sports to hairdressing and flower arranging masterclasses.
Number ONE Fight Show Season 11
18.05.2019, 20:00
Estonian kick-box and Muay Thai fighters meet the best competitors from Italy, Morocco, Poland, Belarus, and other countries. Not suitable for kids under the age of six.
Performances and shows
Bubble Magic Show
11.05.2019, 17:00
See soap bubbles dance, float, and play under the skilful direction of Aleksandr Skarnoperov. From the ages three and up.
Zero Gravity Aerial Circus Show
31.05.2019, 20:00
Circus artists from around the world wow you with their impressive skills and gravity-defying tricks in the serene surroundings of the KUMU Art Museum.
New exhibitions
90 days of nostalgy to Estonian Song and Dance Celebration
08.04-10.07.2019, 12:00-18:00
Rotermanni 18/1
The UNESCO Heritage listed Estonian Song and Dance Celebration takes place every five years and involves thousands of singers and dancers dressed in colourful national costumes. The year 2019 will be extra special: it marks the 150th anniversary of the first song festival, and the dance celebration will take place for the 20th time. Come and explore the history of one of the most important cultural traditions in Estonia.
03.05-15.09.2019
What do Rick Owens, the American master of dark fashion design, and
Tommy Cash
, a surreal Estonian rapper, have in common? Discover their surprising artistic connections through Owen's exceptional costumes and Cash's videos.
15.05.2019-05.2021
Last chance! Tallinn exhibitions to check out before they disappear
Estonian ladies' fashion 1920-1940
Closes on 13.05.2019
What did trendy Estonian ladies wear during the interwar period? The exhibition peeks into the wardrobes and fashion choices of well-off city dwellers at the most important moments of their lives.
Closes on 26.05.2019
The exhibition presents the oeuvres of the first two professional Estonian artists: Johann Köler (1826-1899) and August Weizenberg (1837-1921). Their works are part of the legacy of Estonian national art and reflect the more significant developments in the Art Museum of Estonia.
A room of one's own. Feminist's questions to architecture
Closes on 19.05.2019
Feminism provides a methodology and approach that allows the museum to explore the history of Estonian architecture in the 20th century in a completely different light. The exhibition aims to spark discussion, rather than merely present ready-made research results.
A top tip: Tallinn's best museums and public transport are free with
Tallinn Card
, traveller's best buddy for saving time and money.