Top events in December: Christmas and New Year's Eve in Tallinn
By Laura Hiietamm • 27.11.2019
At last, the time of the year has arrived when it is okay to play your favourite Christmas songs on repeat, go all out on decorating your home, and shamelessly indulge on festive treats. Below are our jolliest suggestions on where to spend Christmas and New Year's Eve in Tallinn, including Europe's best Christmas market and parties in some of the most exciting places.
A local's tip: 24, 25, and 26 December are public holidays in Estonia so many museums, shops, and restaurants might have different working hours or be closed for the holidays. Check our
list of attractions open
on Christmas and New Year's - all of them are free or discounted with
Tallinn Card
, the city's all-in-one sightseeing pass.
For more information on what is happening in Tallinn, please check out our
events' calendar.
Christmas highlights in Tallinn
Tallinn Christmas Market
15.11.2019-07.01.2019
Do not miss your chance to visit the
best Christmas Market
in Europe in 2019! A majestic Christmas tree surrounded by tiny wooden cottages in the fairy-tale-setting of the medieval Town Hall Square - it is the perfect place for a cup of mulled wine and some stress-free gift shopping.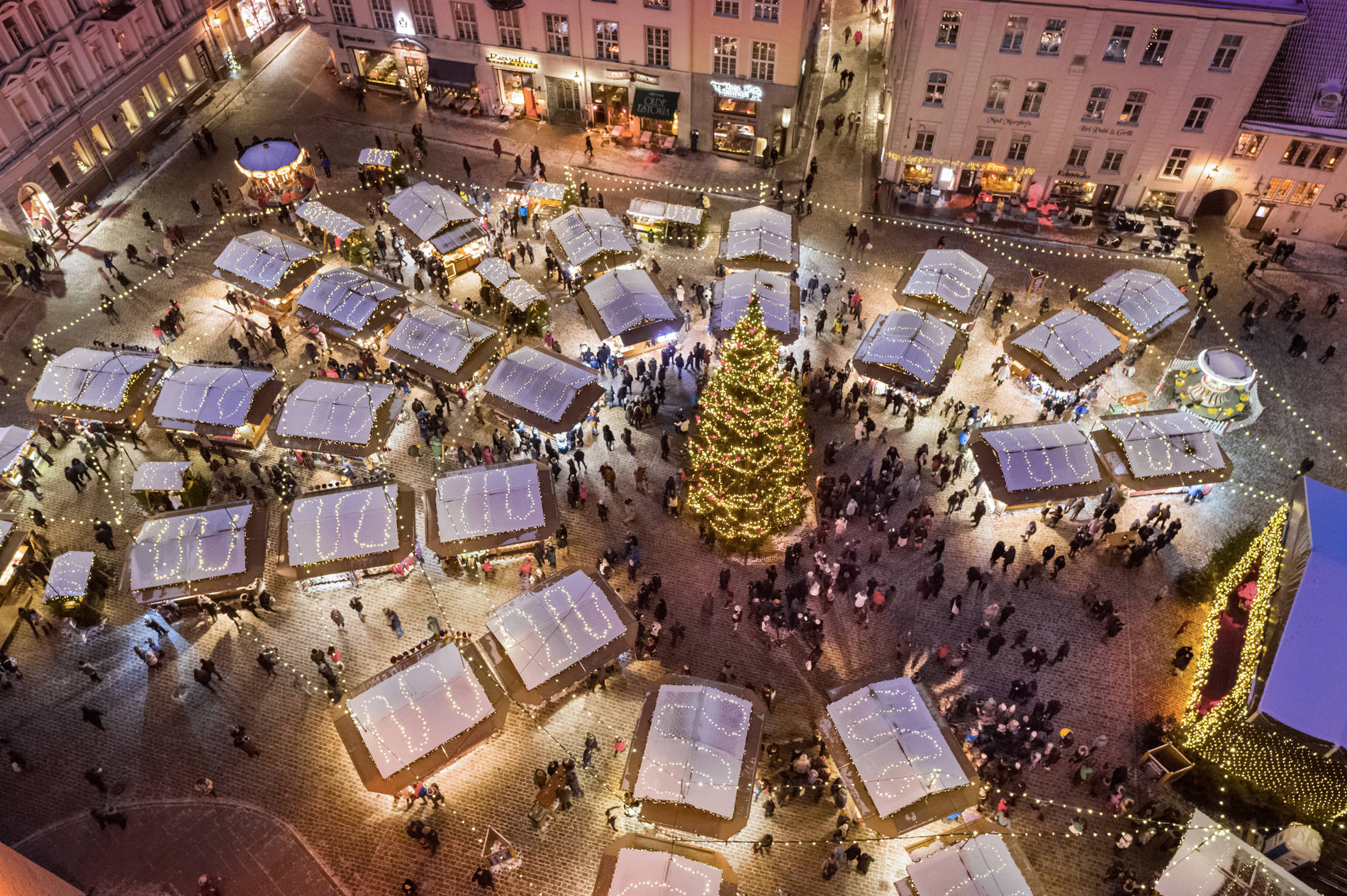 A local's tip: the Christmas market on the Town Hall Square is not the only festive fair in Tallinn. You can find plenty of other events, from design and handicraft markets to art and vintage sales - just pick your favourite from
our list
!
Christmas jazz festival
29.11-12.12.2019
The annual jazz festival fills Tallinn's concert halls with festive sounds from the most exciting local performers and international stars. Some of this year's top acts include Accent, Kurt Elling, Sebastian Plano, and Sabrina Malheiros.
Christmas music festival "Church Holidays in the Land of Mary"
30.11-06.01.2020
The eloquently titled music festival is a series of Christmas-themed classical music concerts in Tallinn and beyond. It is a beautiful occasion to take time to yourself and ponder about the true meaning of Christmas.
Tallinn City Museum's Christmas programme
01.12.2019, 11:00-16:00
05.01.2020, 11:00-16:00
Piparkoogimaania – Gingerbread Mania
05.12.2019-05.01.2020
Gingerbread cookies are one of Estonians favourite Christmas treats. In fact, we love them so much that every year we dedicate an entire exhibition to everything made out of gingerbread!
Christmas Village
14.-15.12.2019, 11:00-16:00
Set up like a quaint little wooden village in the outskirts of Tallinn, the Estonian Open Air Museum is a collection of dozens of original farmhouses and public institutions - some of them dating to as early as the 17th century. You can step into the houses, talk to the costumed inhabitants, and discover first-hand the Christmas traditions of our ancestors. A true time-travel experience.
An extra tip: the outside
skating rink on Harju Street
in the Old Town opens on 30 November 2019 - it is a perfect addition to your magical winter day in Tallinn.
New Year's Eve in Tallinn
Lot's (and lot's) of different NYE parties take place in Tallinn on 31 December. To help you choose, here are our suggestions on how to spend the New Year's Eve in Tallinn.
New Year's Eve at the Tallinn TV Tower
31.12.2019, 19:00-02:30
If you wish to look far ahead, then the highest building in Estonia is definitely the best place to start the New Year. The party takes its guests back to 1980 when Tallinn was hosting the Regatta of the Moscow Summer Olympics. Put on your best neon tracksuit, puff up your hair, and you are ready to end the year in style!
New Year's Eve Ball at the Opera
31.12.2019, 19:30-01:00
Probably the classiest way to welcome the New Year in Tallinn: ballroom dancing at the National Opera. Enjoy a glamorous evening with performances by professional ballet artists, orchestra music, and plenty of waltzing.
New Year's Eve Cruise on Tallinn Bay
31.12.2019, 20:00-02:00
On the last day of the year, steamboat Katharina takes you on a cruise on Tallinn Bay with live music and spectacular views of the city.
New Year's Eve at the Estonian History Museum
31.12.2019, 20:00-03:00
Maarjamäe Palace celebrates the New Year with a Slavic cinema-themed event. The programme is in Russian only.
New Year's hike around the peninsula of Paljassaare
31.12.2019, 20:30-00:00
A three-hour hike around Paljassaare peninsula on New Year's Eve is probably one of the healthiest ways one can spend the last night of 2019 in Tallinn. Prepare yourself for crisp sea air, spectacular views of the city's skyline, and lot's of exciting sights.
New Year's Eve at the Tallinn Christmas Market
31.12.2019, 22:00-01:00
Europe's best Christmas market celebrates the New Year's Eve with a musical programme. The evening is hosted by no other than Santa Claus himself! The event is free.
New Year's Eve in Fotografiska
31.12.2019, 23:00-04:00
New Year's Eve in the world-renowned photography museum? - Yes, please! The programme includes music, art and light installations. Dance yourself to the New Year with Bombossa Brothers, Sofia Rubina, and Widenski.