Telliskivi Creative City – creativity, culture and entertainment
By Terhi Pääskylä-Malmström • 05.07.2019
The story of Telliskivi Creative City (Telliskivi Loomelinnak) started ten years ago. The former Kalinin factory was in a sad shape and starting a business at the old factory seemed like an absurd idea.
Today, Telliskivi (or Brick in English) has become a hipstery cultural centre, popular among tourists and Tallinners alike. The fame of the quarter is even reflected in Uber statistics: travel hubs, such as bus stations and airports excluded, Telliskivi Creative City is the most popular Uber destination in the whole Estonia.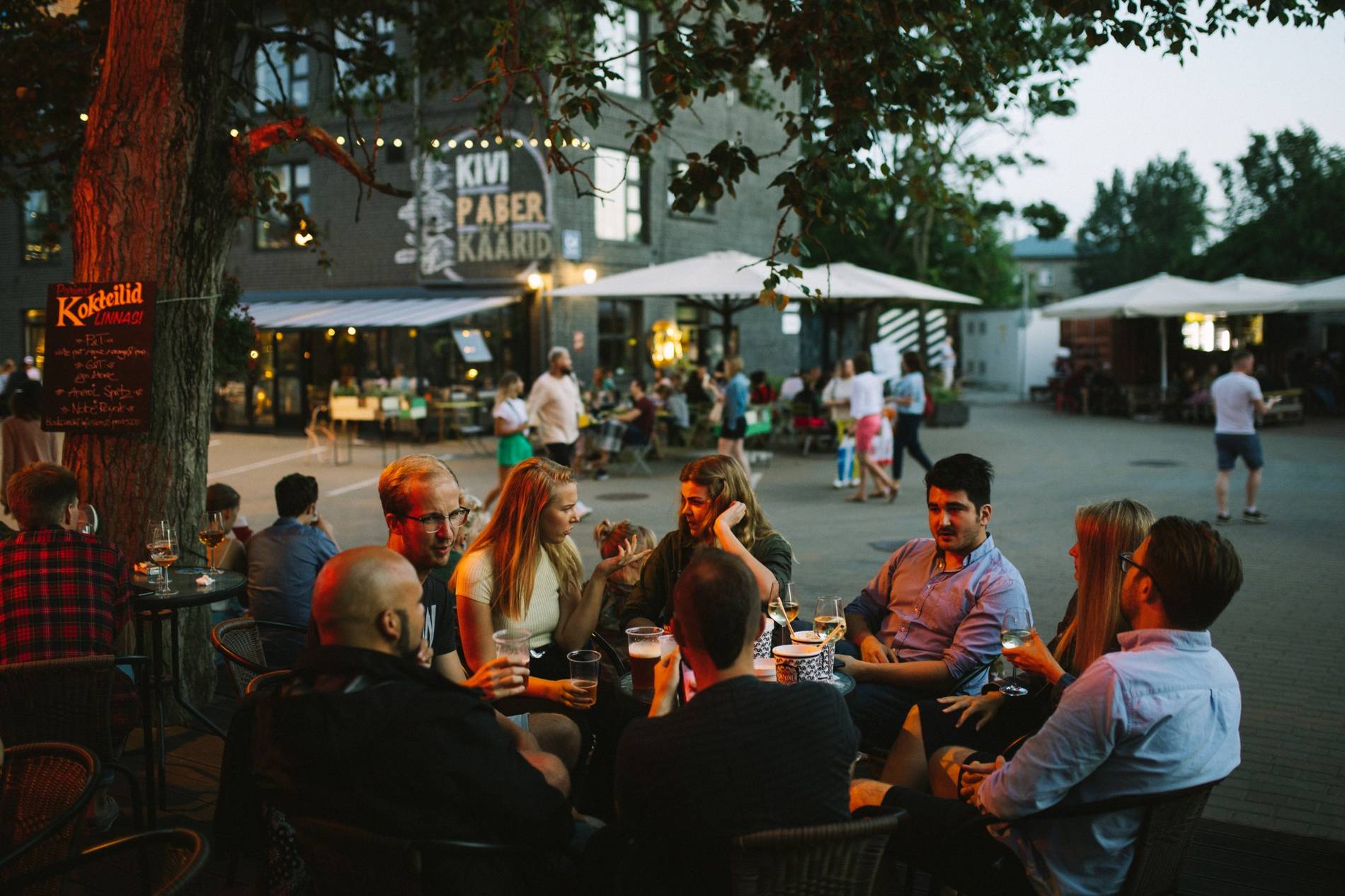 It all began with a railway
The physical structure of the Creative City stems from machine and electronics industry that was alive and well in the area for nearly 130 years.
In 1870, Tallinn and Saint Petersburg got connected with a railway. Tallinn's main railway station, today known as Balti jaam, was established on an old pastureland. Same year, a new railway factory started to function no more than a stone's throw away, employing 500 workers and serving the needs of railway machinery and infrastructure. The factory soon became the biggest in the whole Tallinn.
Before World War II, the main function of the factory was repairing and building locomotives and railroad cars. Right after the Soviet occupation, the factory was renamed the Kalinin locomotive and carriage factory of Tallinn. In 1958, it started to manufacture mercury-arc valves.
During the next decades, even semiconductor devices for the first Soviet moon rover were produced, as well as components for the needs of power plants, railways, military industry and airports. Quite obviously, the closed factory area fuelled up many urban legends, as well. The rumours had it all, from weird space and military technology to poisonous chemicals and radioactive platinum buried on the factory grounds.
Oasis of creative companies
After the restoration of Estonia's independence, the factory was privatised and moved away from its central location. The premises stood empty for quite a while, until the first brave ones,
Black Nights Film Festival PÖFF
and urban lab
Linnalabor
, moved in. To prevent imminent starvation, the still popular
F-hoone
started as the area's first restaurant.
In ten years, Telliskivi Creative City has become a lively hub of creative companies, now thriving in ten former factory buildings. The quarter's rough outerior is decorated with murals and its heart is beating to a bohemian rhythm.
The Creative City is home to 250 companies, nearly 30 shops and a dozen eateries. Art galleries, theatres, band rooms, a radio station and a kindergarten are also present, as well as outdoor activities ranging from children's playgrounds, outside galleries and summer terraces to all kinds of events imaginable.
90% of the companies in Telliskivi can be categorised as creative industries. All in all, the Creative City is a workplace for nearly 1 500 people, of which two thirds come from abroad.
Finding business premises at Telliskivi has become quite a task, mainly because there is nearly nothing to be rented out in the popular area. Besides, the business idea and the ethical codex of any company must comply with the ones of the Creative City. Aggressive marketing is not permitted, and the gates of the quarter stay closed to international franchise companies.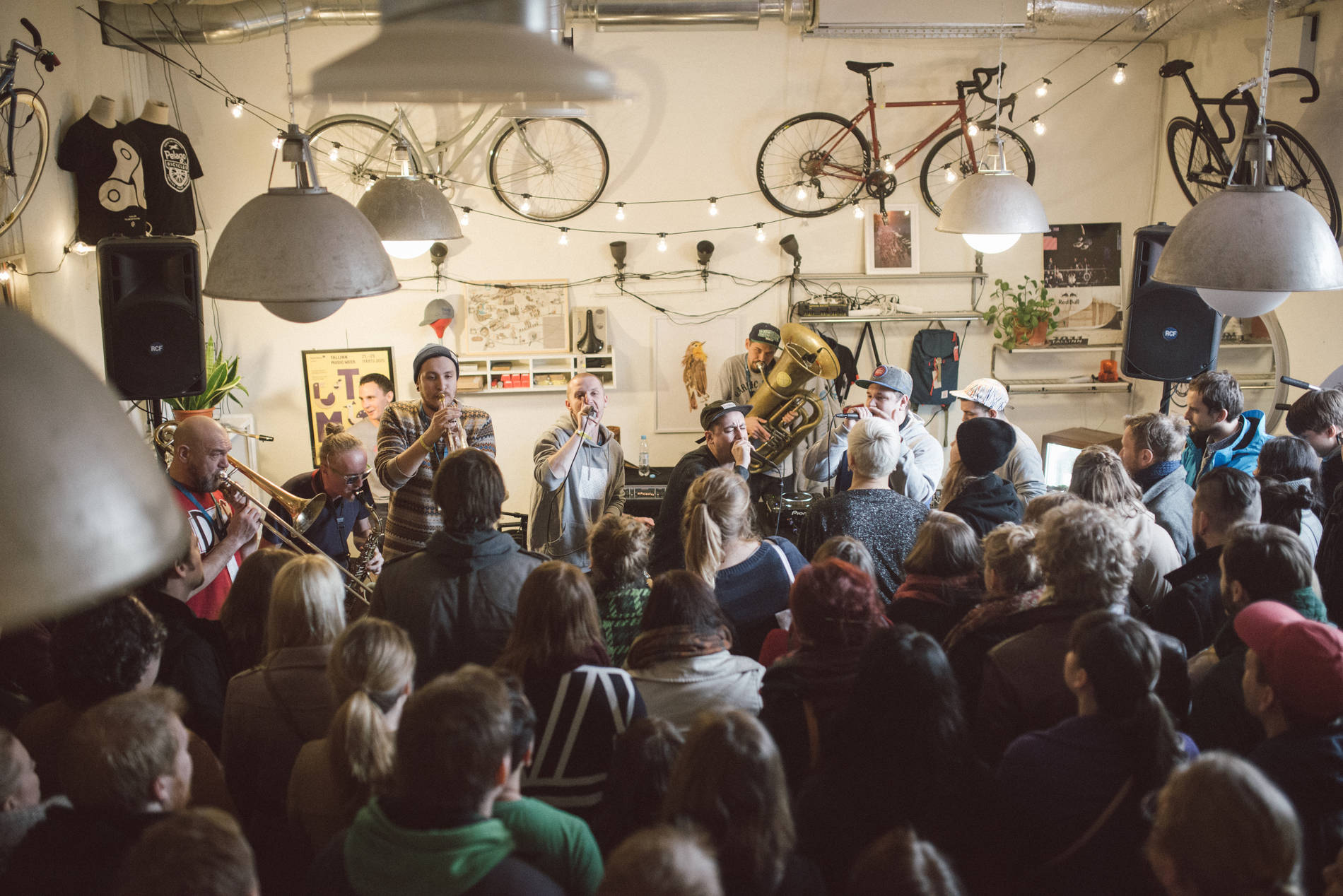 Where to eat?
Telliskivi Creative City's first restaurant,
F-hoone
, is situated in an old ore foundry and warehouse, also known as Building F. Instead of addresses, the factory buildings were identified with letters, a system still valid in the area. Big, yet cosy F-hoone has a versatile menu, consisting of breakfasts, soups, salads and main courses – not to forget the lovely cakes and a wide variety of drinks.
Kivi Paber Käärid
(Rock Paper Scissors) is the first 100% gluten-free restaurant in Estonia. All special diets, such as lactose-free diet and veganism, are exceptionally well recognised in all of the Creative City's restaurants. In accordance with sustainable thinking, they also use nothing but biodegradable straws and take-away tableware.
Lendav Taldrik
(Flying Saucer) is an Asian restaurant, mainly focusing on Indian food. At Frenchy, though, it is all about French cuisine and wines. The Estonian-Chilean food wagon
Bueno Gourmet
is waiting for its customers on the yard, offering warm sandwiches inspired by Southern America.
Coffee-lovers are pampered in the Estonian coffee chain
Reval Café
and the fresh, Scandinavian-styled newcomer called
Fika
. The best beer selection can be found in
Pudel
(Bottle), a comfy bar focusing on the products of Estonian and foreign small breweries.
Ice-cream factory
La Muu
produces 10 tons of ice-cream in their Telliskivi factory each year. Their ice-cream bar is open during the summer season, selling over 20 sorts of ice-cream not available in stores. Sorbets and vegan ice-creams are also offered.
Where to shop?
The
shops of Telliskivi Creative City
are mainly centred on the ground floor of the factory's former administrative building. Many of them concentrate on local design, and even the entrepreneurs themselves can often be spotted in their stores.
Les Petites
is a design shop, focusing on the products of Estonia and its neighbouring countries. The wide product range consists of clothes, jewellery, tableware and interior decoration.
Homeart
, right opposite of Les Petites, is a Scandinavian-styled interior design shop, selling Swedish and Danish decorations and stylish second-hand furniture. There is even a homey café inside the store.
Women's design clothes and accessories can be found in many stores, such as
VARKKI
and
Mia & Leela
. Children's clothing is represented for instance in
Dadamora
.
Mokoko
sells simple and stylish leatherware, such as bags, wallets and accessories. The artefacts are made on the spot and the entrepreneur is regularly experimenting with something new. This means that an individually-minded fashion-friend can also bump into prototypes and one-offs not found anywhere else.
Those looking for organic food will love
Organic Day
, store and café full of quality coffees, teas, chocolates and other delicacies. For organic cosmetics, head to
MIMESIS
, representing dozens of producers from Estonia and other countries.
A bookworm's must is the book shop called
Puänt
. It is run by two friends, whose friendship kicked off after a bookstore visit in Paris. Since Tallinn was missing a small book heaven focusing on quality literature, they decided to establish one in Telliskivi.
Where to enjoy culture?
Telliskivi Creative City hosts more than 600 culture events every year. The variety of events range from concerts, parties and theatre to outdoor festivals, such as the annual Tallinn Street Food Festival, the first carbon neutral festival in the Baltics. The Creative City events attract nearly one million visitors each year. All this makes the quarter the most active culture event area in the whole Estonia.
Theatre centre
Vaba Lava
(Open Stage) is the place to enjoy versatile theatre.
Sõltumatu Tantsu Lava
(Independent Stage of Dance) is the oasis of contemporary dance, focusing on performances that deal with movement and body.
Erinevate Tubade Klubi
(Club of Different Rooms) serves as a popular event location, offering rooms for all kinds of happenings from cultural events and formal corporate meetings to concerts and film screenings.
Recently, the internationally renowned Stockholm-originated photography centre
Fotografiska
opened its branch in the so-called Red Building of the Creative City. Fotografiska is a modern cultural centre and a meeting point for world-class photo exhibitions, music, design and good food. Fotografiska's
restaurant
is run by top chef Peeter Pihel, who is known as the spokesperson of resource-efficient cooking and zero-waste thinking.
How to get there?
The fastest way to get from the city centre to Telliskivi Creative City is by trams 1 and 2. Hop off at the
Telliskivi
stop, walk a couple of minutes and you're there. Read more about
public transport in Tallinn
.
If you enjoy walking, take a stroll through Old Town to the railway station (Balti jaam), cross the rails and follow them past the
Balti Jaam Market
.
This article mentions only some of the many companies and activities of Telliskivi Creative City. To get the whole picture, please visit telliskivi.cc.
Read more about the area: