Public holidays in Estonia
By Noora Karppi • 30.01.2019
Have you ever wondered what kind of public holidays are celebrated in Estonia? The country celebrates 12 public holidays and 14 national holidays.
On a public holiday in Estonia, everybody gets a day off. In some countries these holidays are called also Bank Holidays.
If you are planning on visiting Tallinn during public holidays, please check beforehand if the places you wish to visit are open. Please also note that on the day before a public holiday, most museums close three hours earlier than usual. The opening hours are usually announced on the company website and social media channels.
Don't worry; even if you visit Tallinn on a public holiday, there are still many attractions open for visitors, running as if it were an ordinary day! In addition, most shopping centres and shops are open all year round.
Besides public holidays, there are also national holidays in Estonia. National holidays are a common day of celebration or commemoration, but are not given as days off from work.
In Estonia, almost all of the public holidays and national holidays are also 'flag days', meaning that the national flag must be hoisted outside all buildings on these days. And because Estonians love to see the blue-black-and-white flag waving high up in the air, four extra flag days have been added to the calendar!
In addition to the designated flag days, the blue-black-and-white will also fly outside all buildings on March 3rd (elections of Riigikogu, the parliament of Estonia) and May 26th (elections to the European Parliament) as 2019 is a year of general elections.
Here is a list of all the public and national holidays and flag days in Estonia.
January
1st – Uusaasta, New Year's Day
a public holiday
New Year celebrations in Estonia are similar to other countries. The celebrations start on the last night of the year, when Estonians wish each other "Head vana aasta lõppu!" (Happy end of the old year). People celebrate at home, or in clubs and restaurants, enjoying good company, food and shooting fireworks. Some even make resolutions and try to predict the future with the help of molten tin. At midnight (GMT +2) you can open a bottle of champagne, kiss or hug your companion and wish them a happy New Year, "Head uut aastat!".
3rd – Vabadussõjas võidelnute mälestuspäev, Anniversary of the Estonian War of Independence Armistice and commemoration of those who fell
a flag day
In the aftermath of World War I, took place the Estonian War of Independence. The war started on November 28th 1918 and lasted for 402 days. A truce was made between Estonia and Soviet Russia on the 31st of December in 1919 and a ceasefire started at 10:30 on the 3rd of January 1920.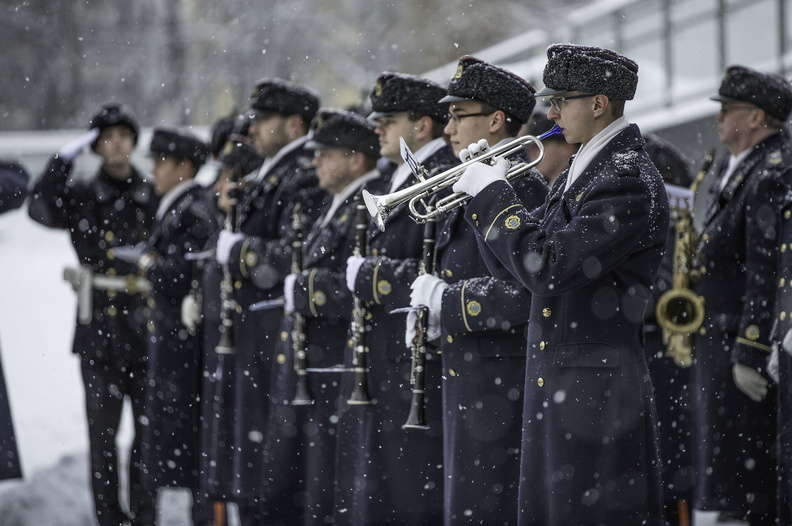 6th – Kolmekuningapäev, Three Kings' Day or The Epiphany
a national holiday
The day when the three Wise Men visited Baby Jesus is celebrated on the Epiphany. In Estonia this day has traditionally been celebrated as the last day of Christmas, before finishing all the Christmas food and cleaning up the decorations.
February
2nd – Tartu rahulepingu aastapäev, Anniversary of the Tartu Peace Treaty
a national holiday
A peace treaty was signed between Estonia and Soviet Russia in Tartu on February 2nd 1920, and ended the Estonian War of Independence. Soviet Russia recognised the independence of Republic of Estonia de jure, and soon other countries also followed.
24th – Iseseisvuspäev, Independence Day
a public holiday
The Estonian Salvation Committee declared the independent Republic of Estonia in Tallinn on the 24th of February 1918, a day after the Soviet Russian army had left. The next day the German troops marched into Tallinn and took over until November 1918.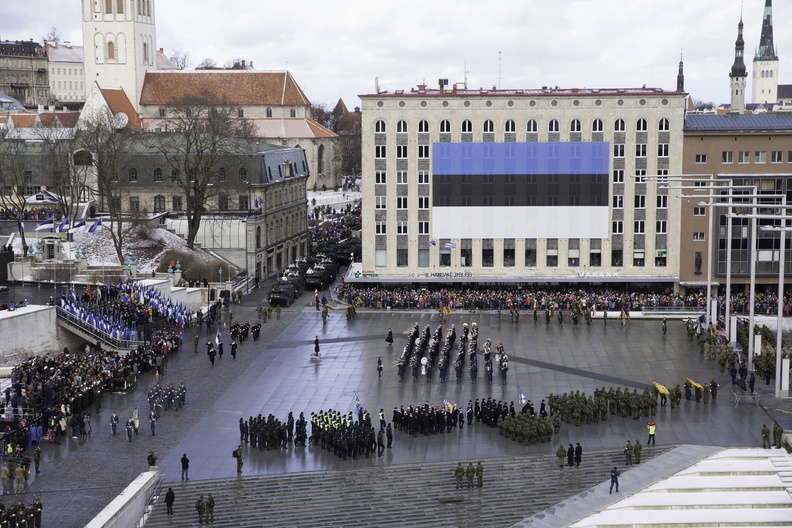 Photo by: Estonian Defence Forces / TKE
March
14th – Emakeelepäev, Native Language Day
a national holiday
Estonian language is part of the Finno-Ugric language family and the mother tongue of 1.1 million people. Native Language Day is celebrated on the birthday of Kristjan Jaak Peterson (14.03.1801-04.08.1822), the late Estonian poet, and one of the first people of letters who valued Estonian language as a vital part of Estonian culture. This holiday is mostly marked by schools and cultural organisations, and has been celebrated since 1996.
Read more about the
Estonian language
and see below our video how Tallinn visitors try to pronounce some tricky Estonian words.
April
19th (moveable Friday, 20.03.-23.04)– Suur reede, Good Friday
a public holiday
Even though Good Friday has long local traditions and a strong connection to religion, in today's Estonia, it is mostly just a day off from school and work. Good Friday is thought to be time when witches, demons and the devil take over, so it is thought by many to be best to just stay at home and keep quiet. Traditionally, it was prohibited to visit neighbours, friends or relatives during this day.
21st (moveable Sunday, 22.03.-25.04) - Ülestõusmispühade 1.püha or lihavõtted, Easter Sunday
a public holiday
Easter Sunday is a popular holiday in Estonia. During this holiday, people celebrate the end of the coldest and darkest winter. As a symbol of a new beginning, Estonians decorate eggs, bring willow branches inside, and use brightly coloured decorations, with chick and bunny ornaments. But the absolute favourite Easter tradition is "munade koksimine". It's a competition in which each contestant gets a decorated hard-boiled egg. The contestants hit their eggs together, and the person with the egg that is the last that remains intact is the winner. Estonians also enjoy organising egg hunts for children and eating pasha or quark during Easter.
23rd – Veteranipäev, Veterans' Day
a flag day
Veterans' Day has been an official flag day since 2014. The day is dedicated to the recognition of veterans and their families. As a sign of support, people wear blue hepatica flower pins and wristbands. The veterans of Estonia are men and women who have helped strengthen Estonia's security, participated in the military defence of Estonia, and international military operations.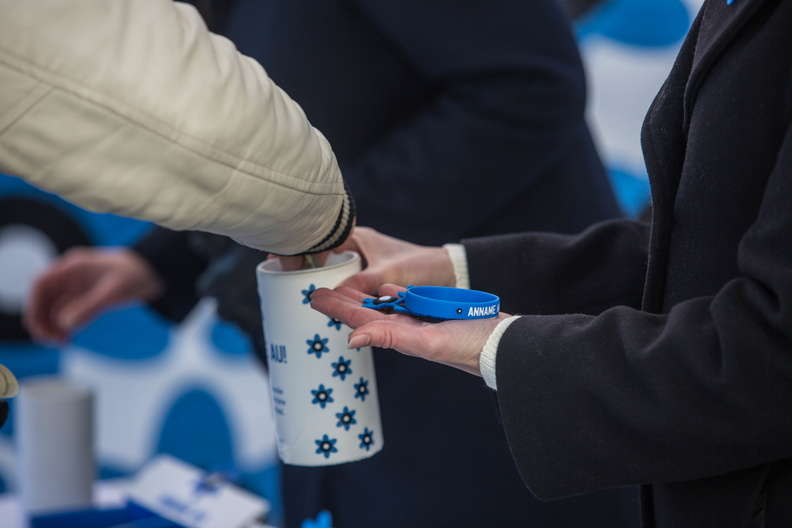 Photo by: Estonian Defence Forces / Private Roomet Ild and Sergeant Siim Verner Teder
May
1st – Kevadpüha, Spring Day or May Day
a public holiday
On May 1st, people in Estonia celebrate the spring, which by this point has (usually) fully taken over from the winter. It is also International Workers' Day and Volber, a traditional Estonian celebration. Back in the day, Volber was the time of magic, bonfires, singing and dancing. Now it is mostly known as the number-one celebration for students, and it's celebrated in earnest in Tartu, Estonia's second city, and home to the country's oldest university.
9th – Euroopa päev, Europe Day
a flag day
The annual Europe Day is celebrated across Europe on May 9th. The day is dedicated to the principle of a united Europe. In Tallinn, the foreign embassies have traditionally opened their doors to visitors, and sharing information about their countries' culture and language, as well as study and work opportunities in their country.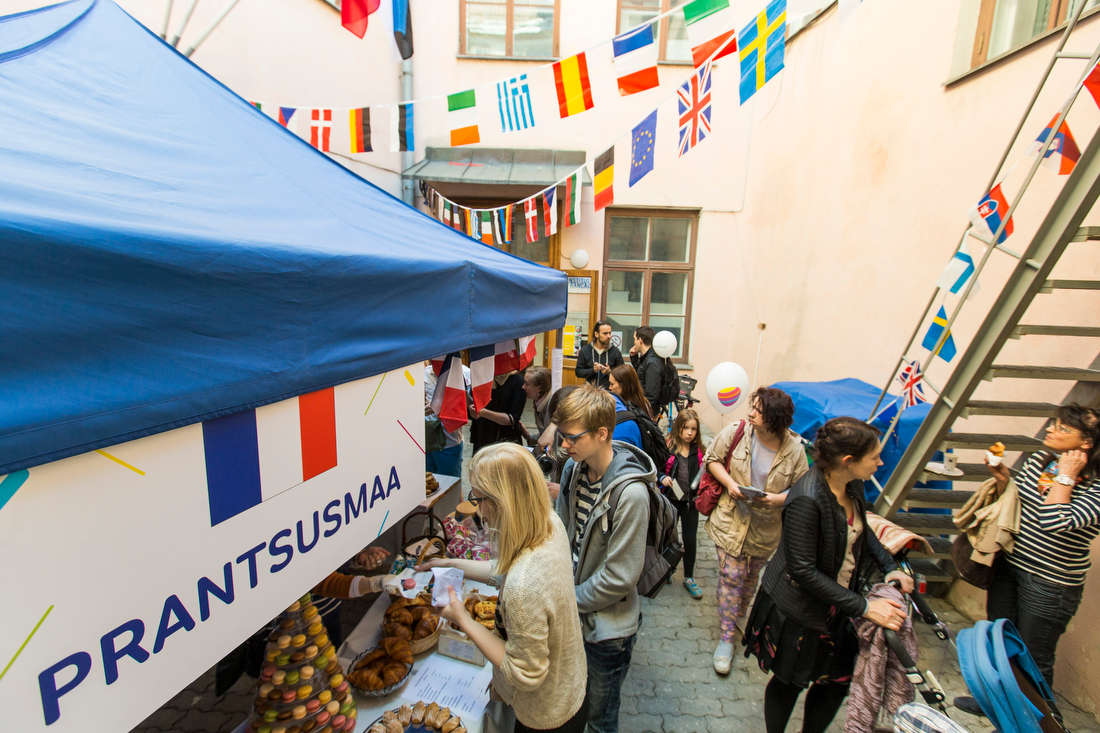 Photo by: Stanislav Moshkov / Eesti Komisjoni Esindus Eestis
12th, second Sunday of May – Emadepäev, Mother's Day
a national holiday
On Mother's Day we celebrate all mothers and mother-figures and their role in society. Mother's Day is traditionally celebrated at home with family, but some restaurants offer special Mother's Day menus or brunches. Usually, kindergartens prepare shows and performances for mothers and grandmothers, and children (with the help of teachers and fathers) make gifts and cards to give to their mum on Mother's Day.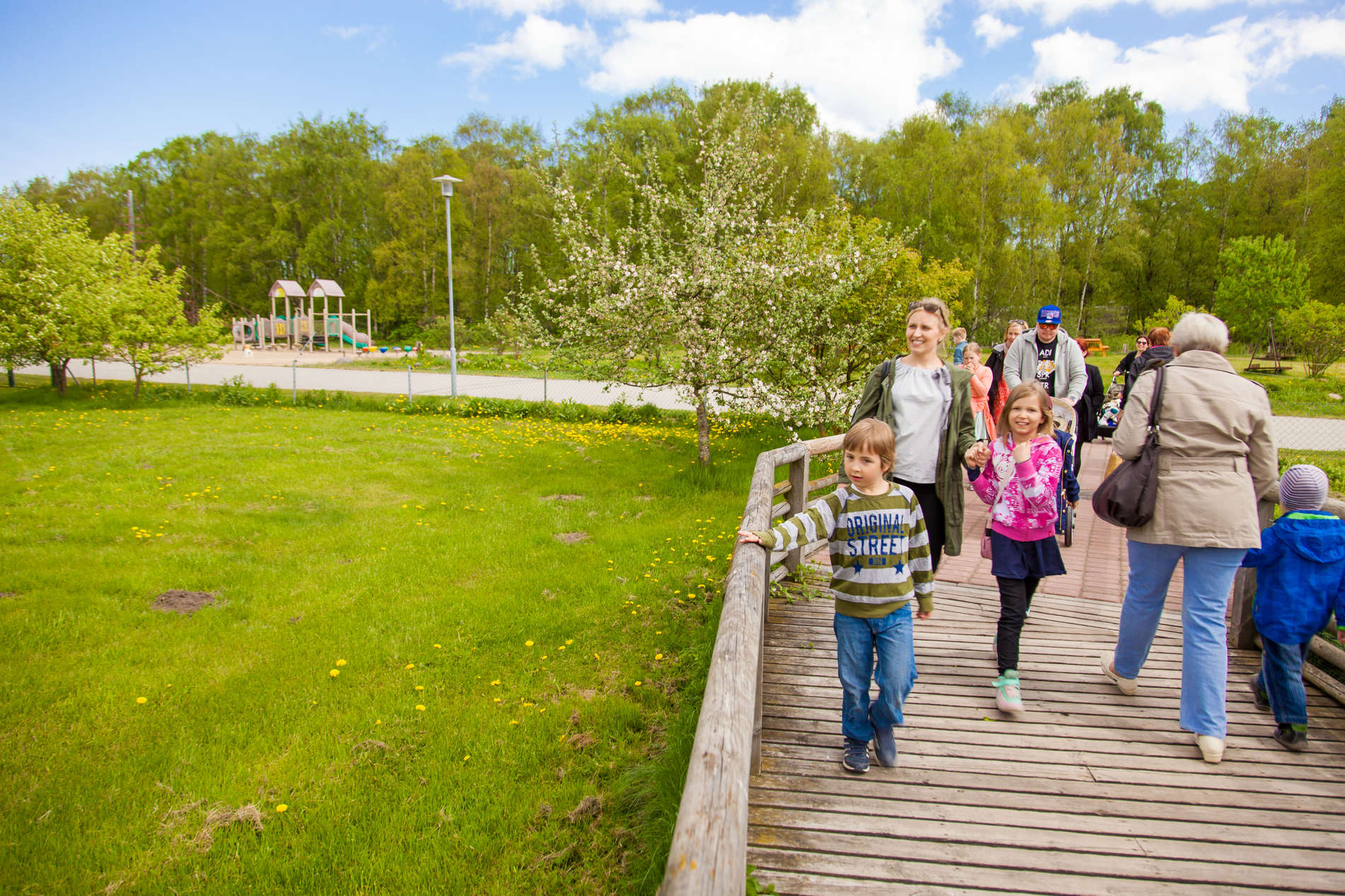 June
4th – Eesti lipu päev, National Flag Day
a national holiday
The flag of Estonia dates back to 1881. The blue, black and white flag was created for "Vironia", the first Estonian national student corps and later became the national flag of Estonia. The flag represents Estonian values and nature.
Blue – hope and faith in the future, or the blue sky
Black – the dark past and repression of Estonian people, or the black soil
White – purity and commitment, white snow, white summer nights, and white birch trees
9th (moveable Sunday, 10.05.-13.06) – nelipühade 1. püha, Whitsun
a public holiday
Whitsun is always seven weeks after Easter Sunday, which means that it's always on weekend. This holiday doesn't really have an impact on business or culture in Estonia, as most people in the country are non-religious.
14th – Leinapäev, Day of Mourning and Commemoration
a national holiday
June 14th 1941 was the date of the first Soviet mass deportation of Estonians, Latvians and Lithuanians. On the Day of Mourning and Commemoration, we remember those who suffered, and those who lost their lives because of repression during the periods of occupation in Estonia. On this day the Estonian flag flies at half-mast.
23rd – Võidupüha, Victory Day
a public holiday
Victory Day marks the anniversary of a victory Estonia gained in the War of Independence over the Baltische Landeswehr in Latvia. The battle of Cēsis (or Battle of Võnnu) took place in June 1919 and was a decisive victory for Estonia. The German units retreated, and an armistice restored the Latvian government in Riga.
24th – Jaanipäev, St. John's Day
a public holiday
Like its neighbours in northern Europe, Estonia has a long tradition of celebrating St. John's Day, or Midsummer Day as it is often called. The warmth and light overcome cold and darkness, and brings a bit of magic to daily lives. The celebrations start on the night before St. John's Day.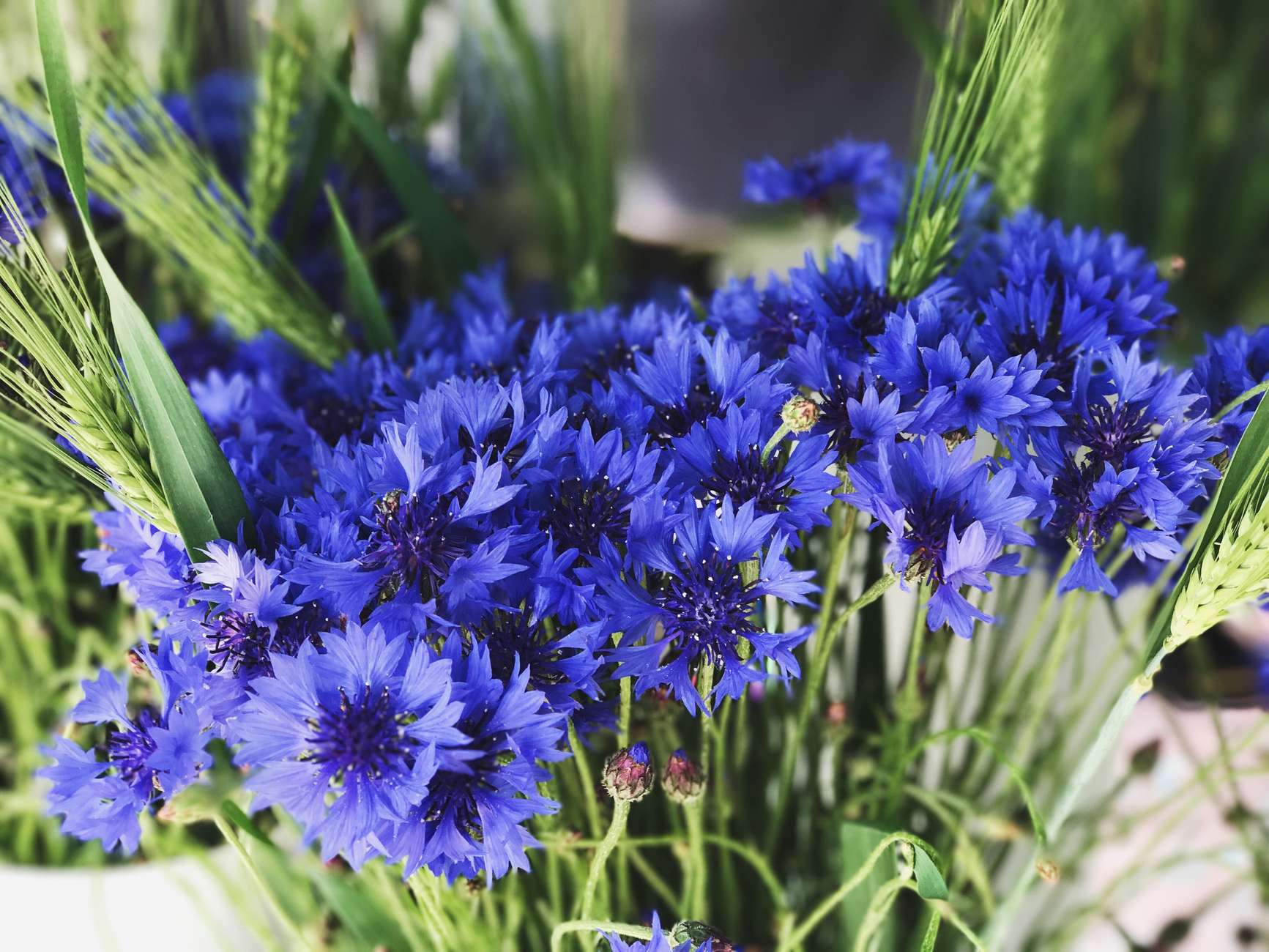 July
There are no public holidays in July in Estonia.
August
20th – Taasiseseisvumispäev, Day of Restoration of Independence
a public holiday
A movement, demanding autonomy for Estonia, started in late 1980s. Demonstrations spread, and soon many Estonians were taking part in the Singing Revolution. On August 20th 1991, during the August Coup in Moscow, the independent Republic of Estonia was re-established. The first country to recognise the independence of Estonia, just two days later, was Iceland. Soon after that, the remainder of the Soviet Union, and other countries, followed.
23rd – Kommunismi ja natsismi ohvrite mälestuspäev, European Day of Remembrance for Victims of Stalinism and Nazism
a national holiday
This day is also known as Black Ribbon Day, and it is a remembrance day for victims of totalitarian regimes. It has been marked in Estonia since 2009, 70 years after the Molotov-Ribbentrop Pact was signed in Moscow on August 23rd 1939. In Tallinn, officials place wreaths on the War of Independence Victory Column overlooking Freedom Square.
September
1st – Teadmistepäev, Knowledge Day
a flag day
September 1st is the start of a new school year in Estonia, and it is also known as the Day of Knowledge. On this day we celebrate in particular the teachers and, children who are joining the First Grade. Education is greatly valued and is seen to have a key role in the progress of people and society in Estonia.
8th, second Sunday of September – Vanavanemate päev, Grandparent's Day
a national holiday
Grandparent's Day is celebrated with families and was created in order to acknowledge and appreciate the love, time and effort grandparents have devoted to their children and grandchildren.
22nd – Vastupanuvõitluse päev, Resistance Fighting Day
a national holiday
On this day we remember those who fought for the independence of Estonia in 1944, when the German troops were in the process of leaving Estonia and the Red Army had yet not reached Tallinn. During the short period of a few days (18.-22.09.1944), the Estonian politician Otto Tief managed to form a government and re-establish the independence of the Republic of Estonia. On the 22nd of September 1944, the Red Army marched in to Tallinn and began the forcible absorption of Estonia into the Soviet Union. Otto Tief's government was an important part of the de jure continuity of the Republic of Estonia all the way to the restoration of independence in 1991.
October
1st - Omavalitsuspäev, Local government day
a national holiday
Local government day is the newest member of our list of national holidays. Established in 2018, this national holiday celebrates the work of local governments for their role in the creation, restoration, and development of the Republic of Estonia.
19th, third Saturday of October – Hõimupäev, Finno-Ugrian Days
a national holiday
Finno-Ugrian Days are dedicated to the special connection and relation between Finno-Ugric people (Hungarians, Finns, Estonians, Mordvins, Udmurts, the Mari peoples, and others). It is also a chance to introduce their traditions and culture. The celebration dates back to 1931, and it has been a national holiday in Estonia since 2011.
November
2nd – Hingedepäev, All Souls' Day
a national holiday
On All Souls' Day, Estonians light candles at homes and at cemeteries, in remembrance of those who have passed. Estonians used to, and some still do, believe that on All Souls' Week, the souls of dead family members would come back home to pay a visit. A table would be set for them with food, and family would ask for their protection for their crops and cattle.
10th, second Sunday of November – Isadepäev, Father's Day
a national holiday
On Father's Day we celebrate all fathers and father-figures and their role in the society and in raising their children. Father's day is traditionally celebrated at home with family, but some restaurants also offer special Father's Day brunches. Usually children (with the help of teachers and mothers) make gifts and cards to give to their fathers.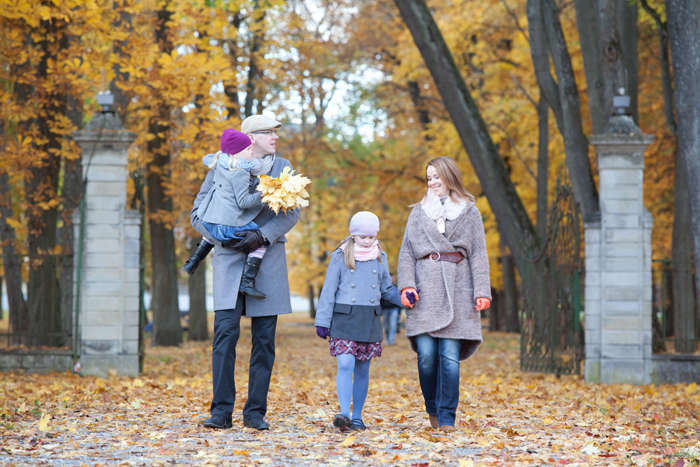 16th – Taassünni päev, Day of Declaration of Sovereignty
a national holiday
On 16th November 1988 the Estonian Sovereignty Declaration was issued. It declared Estonia's sovereignty and laws counting over and above the laws of the Soviet Union. It was the beginning of the legal separation from the Soviet Union for Estonia and its people. Unlike every other national holiday, the Day of Declaration of Sovereignty is not a flag day.
December
24th – Jõululaupäev, Christmas Eve
25th – Esimene jõulupüha, Christmas Day
26th – Teine jõulupüha, Boxing Day
public holidays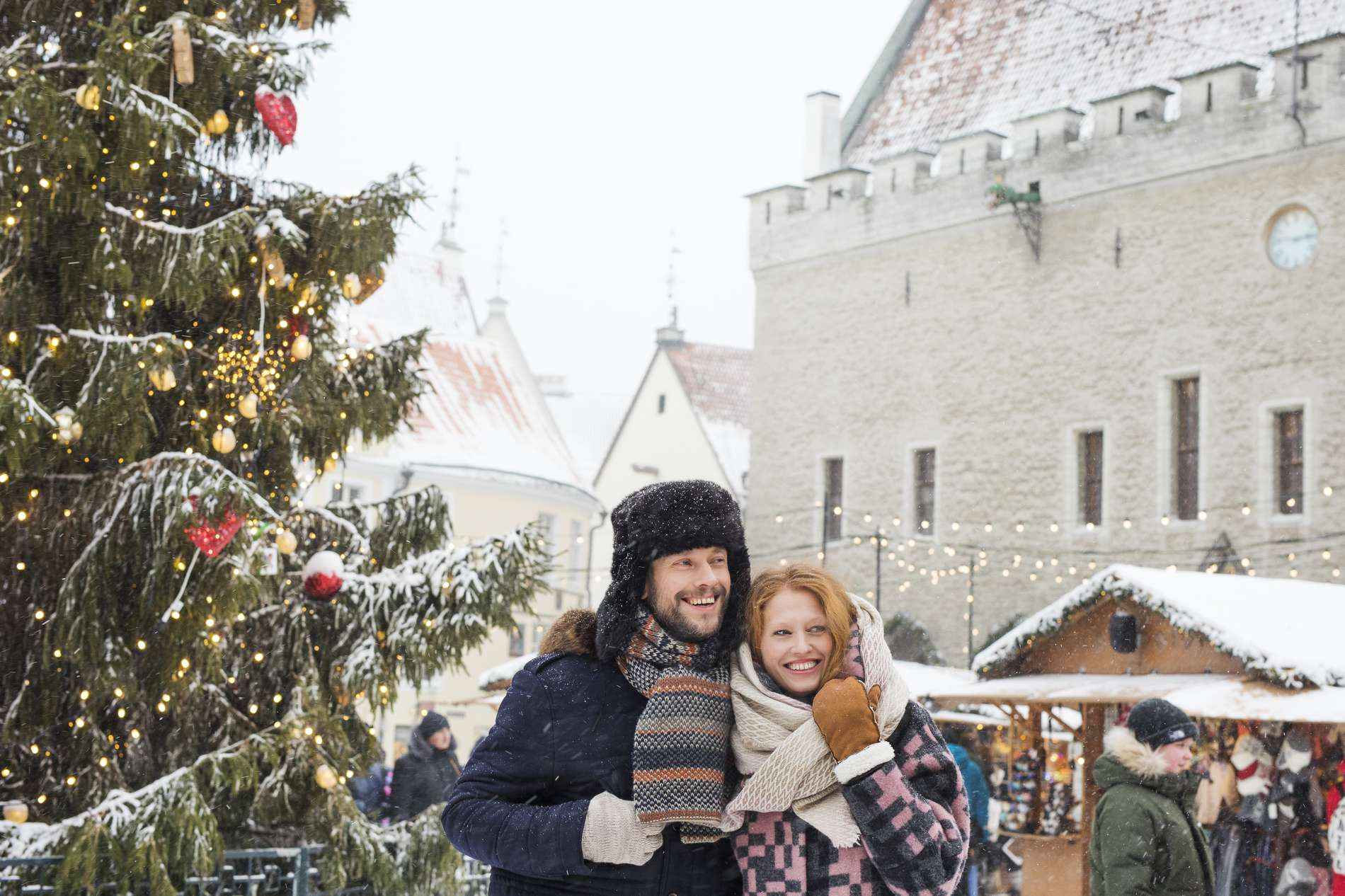 Besides actual public and national holidays, Estonians also celebrate
- Valentinipäev or Sõbrapäev, Valentine's Day, February 14th
- Vastlapäev, Shrove Tuesday (moveable Tuesday, 3.02-9.03), March 5th
- Rahvusvaheline naistepäev, International Women's Day, March 8th
- Naljapäev, April Fool's Day, April 1st
- Mardipäev, St. Martin's Day, November 10th
- Rahvusvaheline meestepäev, International Men's Day, November 19th
- Kadripäev, Saint Catherine's Day, November 25th
- and many more traditional holidays.